Youth Ministry
Vision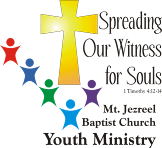 To foster an environment where the youth of Mt. Jezreel can mature spiritually, deepen their Biblical knowledge, and develop Godly character, leadership skills and principles that will positively impact their communities and draw others to Christ.
Mission
To bring young people to Christ and develop lifelong healthy relationships with God. To accomplish this, Mount Jezreel Baptist Church Youth Ministry is engaged in teaching principles of discipleship, studying and applying the Word of God through ministry outreach opportunities, teaching principles of good stewardship, encouraging one another and celebrating God's goodness.
Scripture
I Timothy 4:12-14: Let no one despise or think less of you because of your youth, but be an example for the believers in speech, in conduct, in love, in faith, in purity. Till I come, devote yourself to public and private reading, to exhortation (preaching and personal appeals), and to teaching and instilling doctrine. Do not neglect the gift which is in you, which was directly imparted to you by the Holy Spirit by prophetic utterance when the elders laid their hands upon you.
2019 Goals & Objectives
- To provide support that will educate, empower and equip the youth to carry out the calling of the Great Commission within their communities.
- To increase youth participation by offering ministry activities that will develop our youth and strengthen their relationship with Christ.
- To increase the visibility of the Youth Ministry throughout the church by identifying a space to create a youth lounge and renovate the Youth Ministry Office